Sky Lite 2.0: Galaxy Projector (App Control)
Est. delivery:
All products ship from our California warehouse!
lock Guaranteed Secure SSL Checkout
---
Details
The uplifting, perspective-changing, and awe-inspiring Sky Lite is now even brighter. Drift away under floating nebulas and twinkling stars that move to your pace, selected through the accompanying BlissLights app. Striking stars stand out against a soft nebula cloud that's set to mixes of red, blue, and green. Adjust brightness, timers, and effects for the experience that uplifts your mood, spurs your creativity, or helps you let go of a long day.
Sky Lite 2.0 is available with either cobalt blue stars or classic green stars.

Features
Why there's nothing like the Sky Lite 2.0:
Dazzling stars against a calmly drifting nebula cloud
Sharp cobalt blue or green laser stars against a multicolored nebula
Customize your Sky Lite 2.0 experience from your smart device
Unlock additional features via the BlissLights app (Bluetooth® required)
Nebula cloud colors include red, green and blue
3 brightness modes set the mood for energizing days or calm nights
7 built-in nature-inspired effects that transport you to new dimensions
Built-in 6 hour timer, with additional timer options in the app
Additional Features
New perspective-shifting features on the Sky Lite 2.0 app:
Create and save up to 10 custom configurations
Run the timer from 1 hour to 24 hours
Auto-cycle through all effects
Control multiple lights from the same dashboard
Share light settings with other Sky Lite 2.0 app users
App Control
The free BlissLights app works via Bluetooth® Mesh connection. You can add your Sky Lite 2.0 and control the colors, timer, and more from your phone. For detailed app instructions, visit the support page!
International Orders
See our list of international shopping options by country here!
Compare with Sky Lite Classic
Feature
Star Color
Cloud Color
App Controlled
Timer
Effect Modes
Sky Lite 2.0
Blue or Green
Red/Green/Blue
Yes, with BlissLights App
Customizable timer length
7 default, up to 10 custom
Sky Lite Classic
Blue or Green
Blue
No
Default 6hr shutoff
4 default modes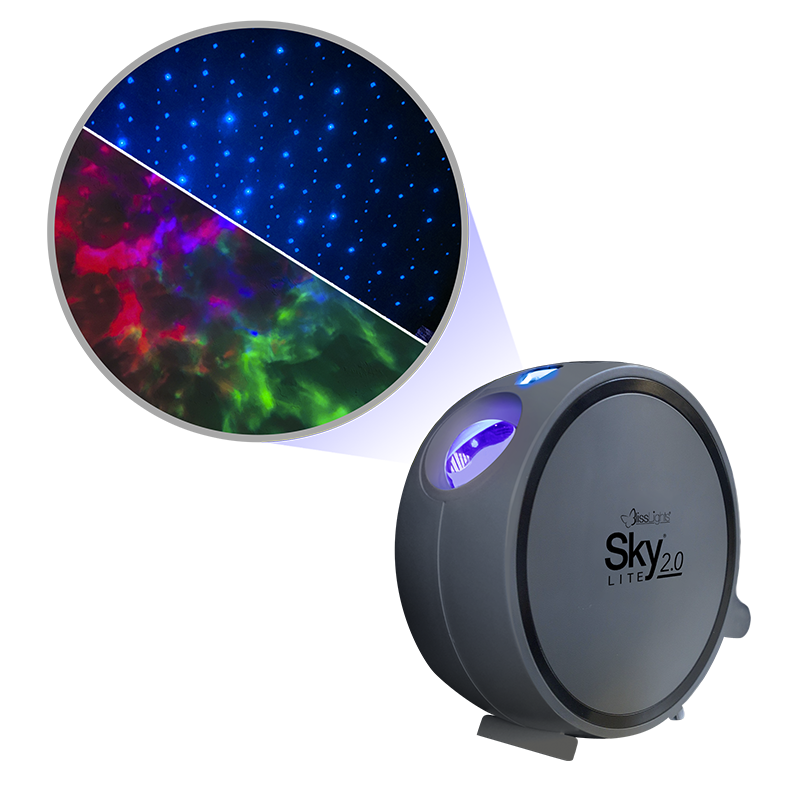 Get ready for the ultimate BlissLights Experience
Sky Lite 2.0 is the first in a new line of BlissLights Bluetooth® enabled products! Download our free app and set up the ultimate light show in seconds. Manage your light settings, create custom effect modes, set timers, or share your unit with friends.
Moving laser stars
Multi-color nebula cloud
Bluetooth app-control
3 brightness settings
Seven built-in effect modes + DIY options
App-adjustable shut-off timer
USB cord with 120-240 V wall adapter

Environment Friendly
Our variety of laser and LED lights are enchanting and energy efficient!

Fast Setup
The magic happens in 10 seconds or less. Just plug in and enjoy.

Based in the USA
No drop-shipping here! All orders ship from our California warehouse.

Purchase Options
We've partnered with some of your favorite retailers like Amazon, Target, and Walmart.
Not just lights. Transformative experiences.
See what our community is saying.
This has to be one of the coolest purchases I have made. Once you download the app to your phone and link it, there are tons of options, and you can even customize what is displayed. Could it be better? Probably, but only if more features are added. [...] A shooting star ever now and again could really Amp up the coolness. But as it stands I am very happy with my purchase!
I was skeptical at first since this seemed to be a cheaper version of others I see advertising on fb. I was very pleasantly surprised to see how bright and how much area it covers. Definitely worth the price. Great product. The app and different settings are simple and easy to use.
This little dude is fantastic! I have two, I will buy more. Zero regrets. Going to be my #1 Christmas present this year. Cause who doesn't want to fall asleep under the stars every night? Works best on the floor, you get more ceiling coverage.
Explore Sky Lite 2.0
How easy is it to set up the Sky Lite 2.0?
Your Sky Lite 2.0 is ready in the blink of an eye. Connect the Sky Lite 2.0 to any outlet using the accompanying USB power cable and base. Press the power button, select your setting, and enjoy. Alternatively, use the BlissLights mobile app to adjust your laser light from the other side of the room.
How do you use your Sky Lite 2.0?
The only limit is your imagination. Feel at peace while drifting off to sleep, create an otherworldly movie night, level up your gaming room, or even bring them to your home gym for a next-level workout. Need some ideas to get started? The
BlissLights blog
has endless inspiration for transforming the everyday into unforgettable, wondrous moments.
Does the Sky Lite 2.0 work on different wall textures?
Yes, the Sky Lite 2.0 works on every wall texture. No matter where you aim it, your view won't be obstructed by stucco, brick, or wallpaper. The same stunning stars and drifting nebula cloud will appear just the same on all surfaces. There's no room BlissLights can't transform into a mesmerizing new world.
Does the Sky Lite 2.0 fill the entire room?
Yes, the Sky Lite 2.0 fills the entire room—but how you place it makes all the difference. Sky Lite 2.0 is designed to cover 900 square feet from 10 feet away, but the projections shrink or expand, depending on your distance from the walls and ceiling. Place it further away for more coverage. But no matter where you place your Sky Lite 2.0, the whole room becomes a space of comfort, creativity, and celebration all your own.
Is the Sky Lite 2.0 quiet?
Yes, the Sky Lite 2.0 runs quite quietly, and it won't interrupt your otherworldly experience.
What does the warranty cover?
All BlissLights products, including the Sky Lite 2.0, are covered by a 1-year guarantee. If you're experiencing issues with your Sky Lite 2,0, contact our customer service department for assistance. Read our full warranty policy for more information.
How does the app work?
The app works via Bluetooth® Mesh connection. You can add your Sky Lite 2.0 and control the colors, timer, and more from your phone. For detailed app instructions, visit the
support page
!
Quality Guaranteed 1 Year Warranty
Our patented design is the first of its kind and remains the highest quality galaxy light on the market. All products are also covered by our 1-year BlissLights warranty!
Transform your space today Browse Our Best Sellers