Ark Ambient Aurora Light
OR
---
Details
Add peaceful ambience to any room! BlissLights Ark shines a soothing abstract laser "aurora" over a soft blue nebula cloud—the perfect atmosphere for movie night, listening to music, or just relaxing.
Features
Moving laser aurora (green)
Blue nebula cloud
Unique sliding adjustable-angle arc design
3 brightness settings
Multiple effect modes 
Auto 6 hr shut-off timer
USB cord with 120-240 V wall adapter
Quality Assured
We stand by the quality our products. Covered by our 1-year BlissLights warranty!
International Orders
See our list of international shopping options by country here!
If you encounter any issues with our product, please contact us right away! We promise to make it right for you. Product Specs
Laser Classification

Class 3R

Laser Color

Green - 505nm ±5nm

Cloud Color

Blue - 450nm

Housing

ABS Plastic

Power consumption

Less than 5 W

USB Adapter Input

100-240 V ~ 50/60 Hz , 0.2 A

USB Adapter Output

5V --- 1A

Operation

Indoor Only

Projection Coverage

Laser - 20 x 20 ft Nebula cloud - 15 x 15ft

Cord Length

5 ft
Like a screensaver for your wall
Have you ever watched a mesmerizing screensaver shift and evolve? Imagine that, but bigger, swirling above you as you drift off to sleep. I'm getting sleepy just thinking about it...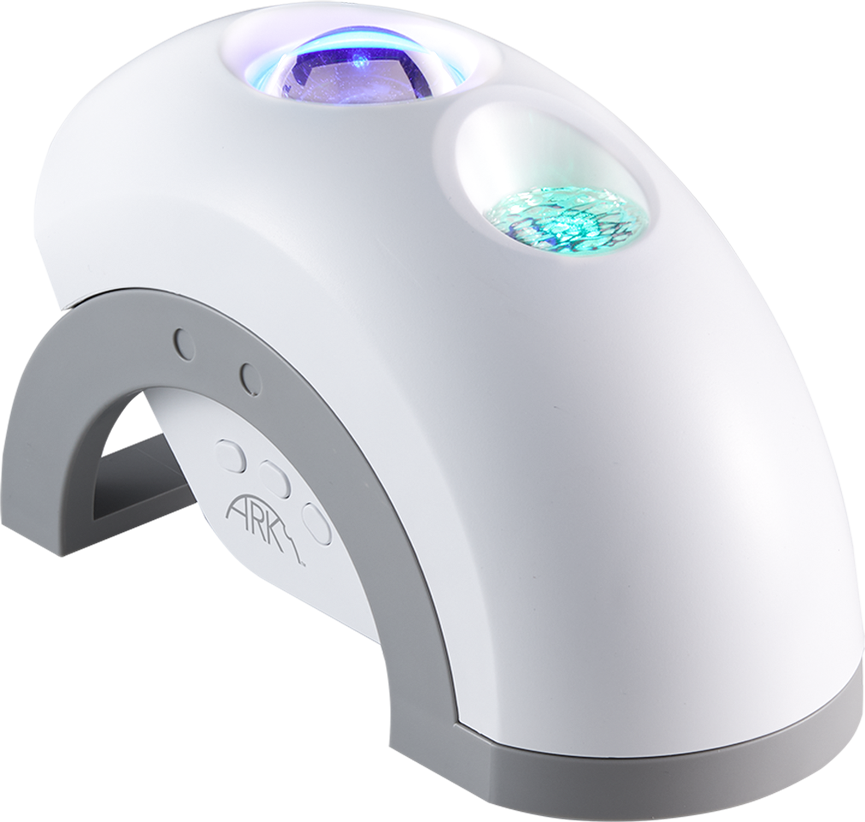 Redefine Your Surroundings
Your home office by day can be your haven of relaxation by night—all it takes is some mood-altering lighting. Breathe in, breathe out, and unwind with Ark.
Frequently Asked Questions
How do BlissLights work?
BlissLights are laser lights that project thousands of colorful stars. Laser light is unique because it's coherent (concentrated light waves traveling in the same direction). Laser light travels in a beam and shines over long distances without losing brightness. We split (diffract) that beam into thousands of smaller beams to create the unique "starry" BlissLights effect.
Are BlissLights safe?
Yes, BlissLights are safe to use around people and pets. The lasers we use are low-wattage, and as mentioned above, we split the main beam into thousands of smaller beams which are less than 5 miliWatts each. We are also registered with the CDRH (Center for Devices and Radiological Health) and take great precautions to ensure user safety.
What is our most popular product?
Currently, our most popular product is the Sky Lite, which can be viewed
here
. It projects a galaxy of moving stars and a blue nebula!
How much area does a single BlissLight cover?
BlissLights coverage varies depending on how close the light is to the projection surface. The closer the light is, the denser/smaller the star cluster will appear. As you increase the distance between the projector and the surface, the effect will expand. In general, BlissLights cover roughly 30 x 30 feet from 10 feet away.


Are BlissLights safe to point to the sky?
While BlissLights are safe for everyday use, they are still lasers and will keep on projecting in any direction you aim the product at. Please note that any BlissLights product, if being used outside, should not be projected any higher than 45 degrees so the laser does not interfere with air traffic.
Are BlissLights available in white?
White lasers don't exist at this time, though we are researching the possibility. For now, we carry blue, green and red laser colors. Most likely, you'll hear exclamations of "Wow!" or "How did you do that?" ...not "Why isn't it white?"
Why don't you just use white LEDs?
Because LEDs emit incoherent light (instead of coherent light like lasers), they don't have the intensity and focus required to create a crisp star field. LEDs create an unfocused, blobby effect instead that's hard to see from more than a few feet away.
Why are some laser colors not as bright looking as others?
Each color has different wavelength intensity in the visible light spectrum. The human eye sees colors near the center of the spectrum (orange/yellow/green) as the brightest. That's why green or blue laser colors appear brighter than red, which is closer to the edge of the spectrum.
Is the BlissBulb an accessory to other BlissLights?
No. The BlissBulb is an independent laser light that twists into standard lightbulb sockets. It projects a motionless star field effect. It is designed for indoor use, but can also be used outside if it is kept dry and protected from the elements.
Can I use the BlissBulb with a dimmer?
While the BlissBulb is compatible with sockets connected to dimmer switches, the dimmer must be set to full brightness, or the light will strobe and/or malfunction.
What are Refurbished products?
Refurbished items have been opened and touched and/or returned. They have undergone extensive quality assurance and are certified by our technicians to be in great condition.
What is the difference between ABS and metal products?
Our metal products, such as the TRIO and retired Spright Compact, are built with a metal housing that is heavy and built to withstand harsh elements. Our ABS binary resin products, such as the MINI, and COLOR have housings made of industrial grade plastic that is formulated to be lighter and less expensive while still maintaining rugged durability.
How quickly will my order ship?
Most orders ship within a business day, though it may take up to 3 business days for your order to be processed. If you choose next-day shipping at checkout, your order will ship via next-day after it is processed, not necessarily the next day following your order.
Where do you ship from?
We ship directly from our company headquarters in Oceanside, California.
What is your return policy?
If you purchased BlissLights on our website and are not satisfied for any reason with your light, or it was damaged upon receipt, we have a 30 day money back guarantee. In other words, any time during the 30 days after the date the product left our facility and shipped to you, you can ship it back to us for a full refund. The product must be in the same condition as it was when you received it and shipped back to us in its original shipping material. Please call us regarding returns after the standard 30 day money back guarantee.

PLEASE NOTE: We can not issue ANY refunds for purchases made through other channels. We can only issue refunds to purchases made directly through blisslights.com

You may call (888) 868-4603.
Where can I find replacement parts?
We offer replacement transformers, timers, ground stakes, and bases in the
Accessories
section of the website. For other replacements, we offer a repair service. To set up a repair, you can call us toll-free at (888) 868-4603.
Not just lights. Transformative experiences.
See how our community transforms their spaces.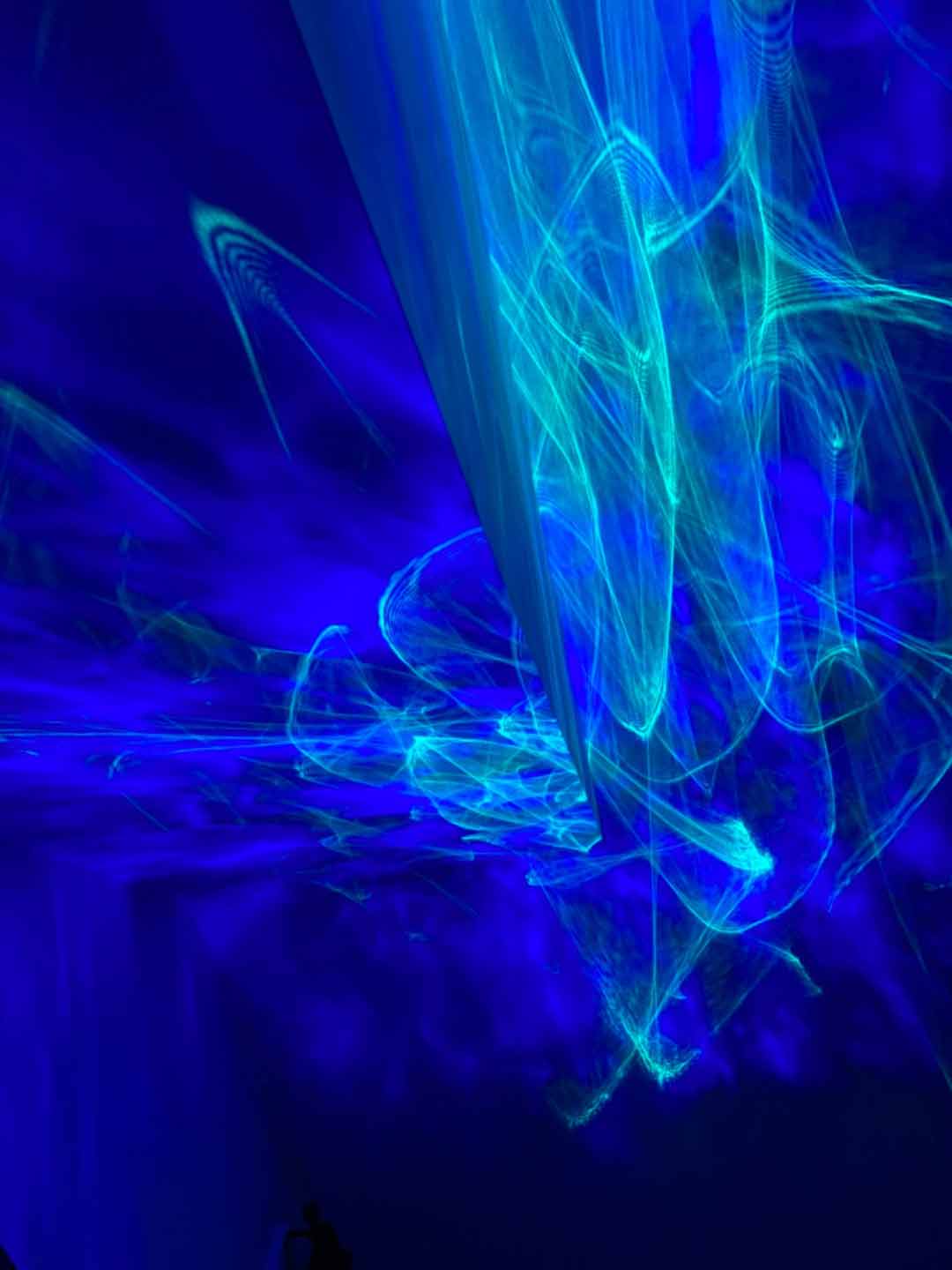 I love it! I always wanted LED lights in my room, but this is such a better option!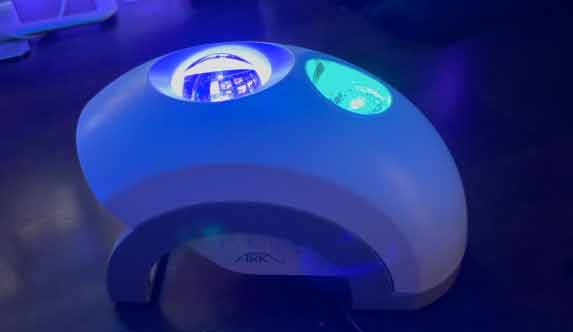 The projector lasers are stunning! I'm impressed with how the laser appears to be holographic because of the several layers of motion and lights projected on the ceiling. [...] Overall, a fantastic product that is portable, impressive, and perfect for setting a calm relaxing mood in any room.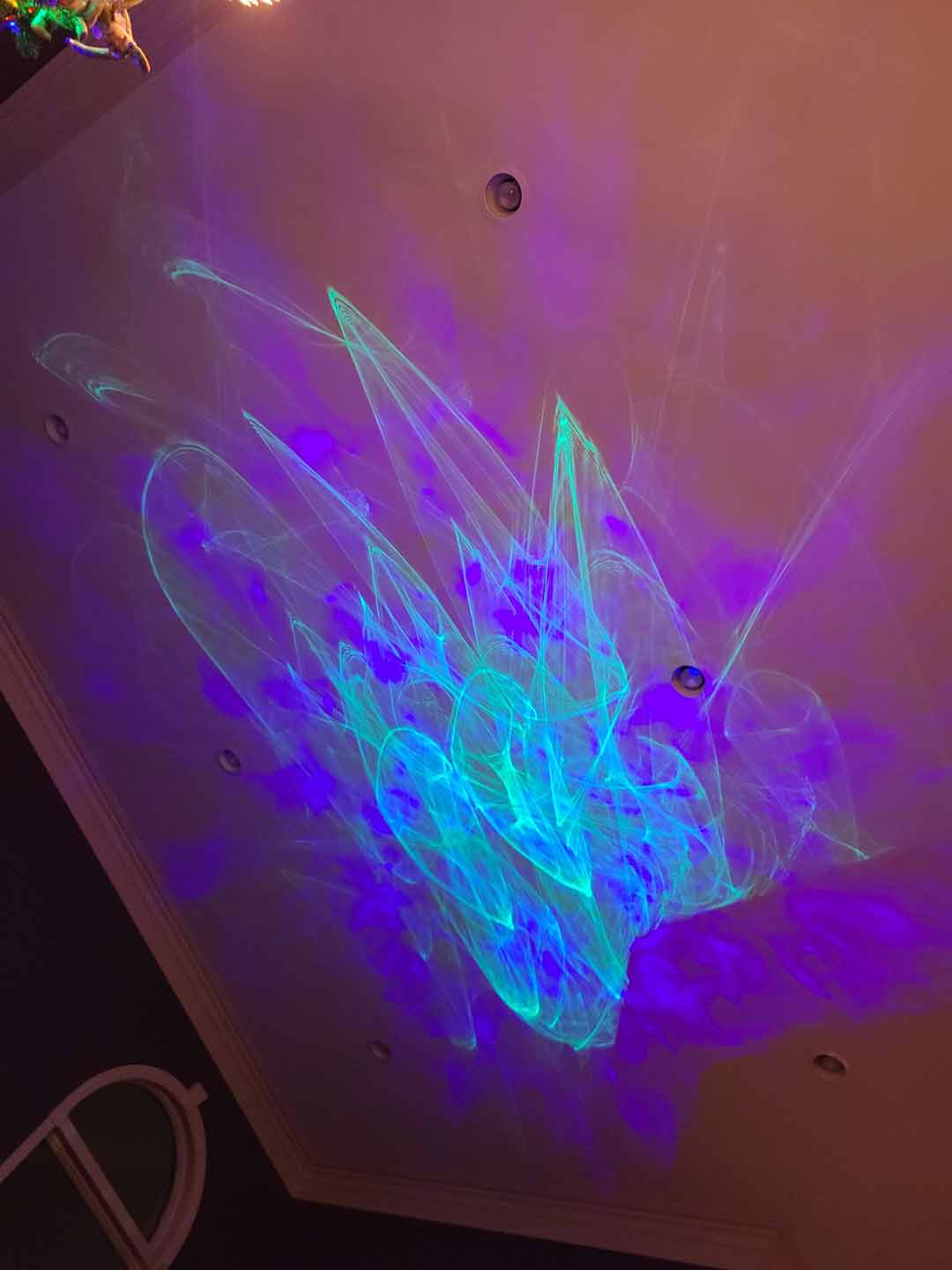 This projector is pretty bright. The patterns it projects are really cool. It's like a nebula in space. The streaks of light slowly change in their pattern. It's kinda mesmerizing. There are adjustments to the angle of projection which facilities it's placement. I'm happy with this light.
Add more to your universe
Choosing a selection results in a full page refresh.
Press the space key then arrow keys to make a selection.